Experienced & Reliable
Contact us today!
Bonded and Fully Insured
Contact us today!
100% Quality Guaranteed
Contact us today!
 About Us
Clean Sweep began its unique cleaning techniques in 1995. It has since remained a woman owned company run and operated by Robin Barnes. Robin is proud to live and have her business be part of the High Point, North Carolina community for over 25 years. Robin grew up with a passion for cleaning and organizing. As she graduated, she knew cleaning was what she was meant to do and moved towards starting her own company. Robin loves seeing the smile on someone's face when they walk into a thoroughly cleaned and organized space. Attention to detail, trustworthy and high standards describe both Robin and her company. Robin would love to meet you and tell you more about the Clean Sweep difference. Contact us today and see your customers feel safe and your space shine above your competitors tomorrow!
Clean Sweep is environmentally aware and follows OSHA guidelines. Is bonded and certified, carries two million dollars in liability insurance at all times, while providing services to your property. We maintain Workers Compensation coverage during the time were providing services to you.
Clean Sweep has been providing us with continuous cleaning since 2014. Robin and her crew have provided professional expertise and commercial cleaning for us. Especially during the Covid 19 times, I have  confidence that they're cleaning has been thorough and exceptional. I would recommend Clean Sweep services for professional or home cleaning.
For over five years I have been impressed by the job that Clean Sweep does weekly cleaning our office. Robin and her team truly have my trust. They always go the extra mile and do an amazing job.
 I also use Robin and Clean Sweep for my perosnal properties. I have confidence that they will always do a great job. I highly recommend Clean Sweep for all your cleaning needs.
Our Team
At Clean Sweep we carefully screen all potential employees. Once someone passes our professional and safety checks and becomes a member of our team, we take the time to train them thoroughly thorough our training program. Once they have passed the training successfully, they then move into our team approved for site cleanings and continue to learn our techniques and quality standards as they are mentored by an experienced supervisor.
We have added a layer of safety for you and our team during Covid 19. All members of our team are temperature checked before allowed to work and are required to wash their hands thoroughly, maintain 6-foot distance, wear masks and be gloved while working. We appreciate the trust you give Clean Sweep by allowing us in your home, business, or showroom, so we choose our employees with the same care your taking in choosing us.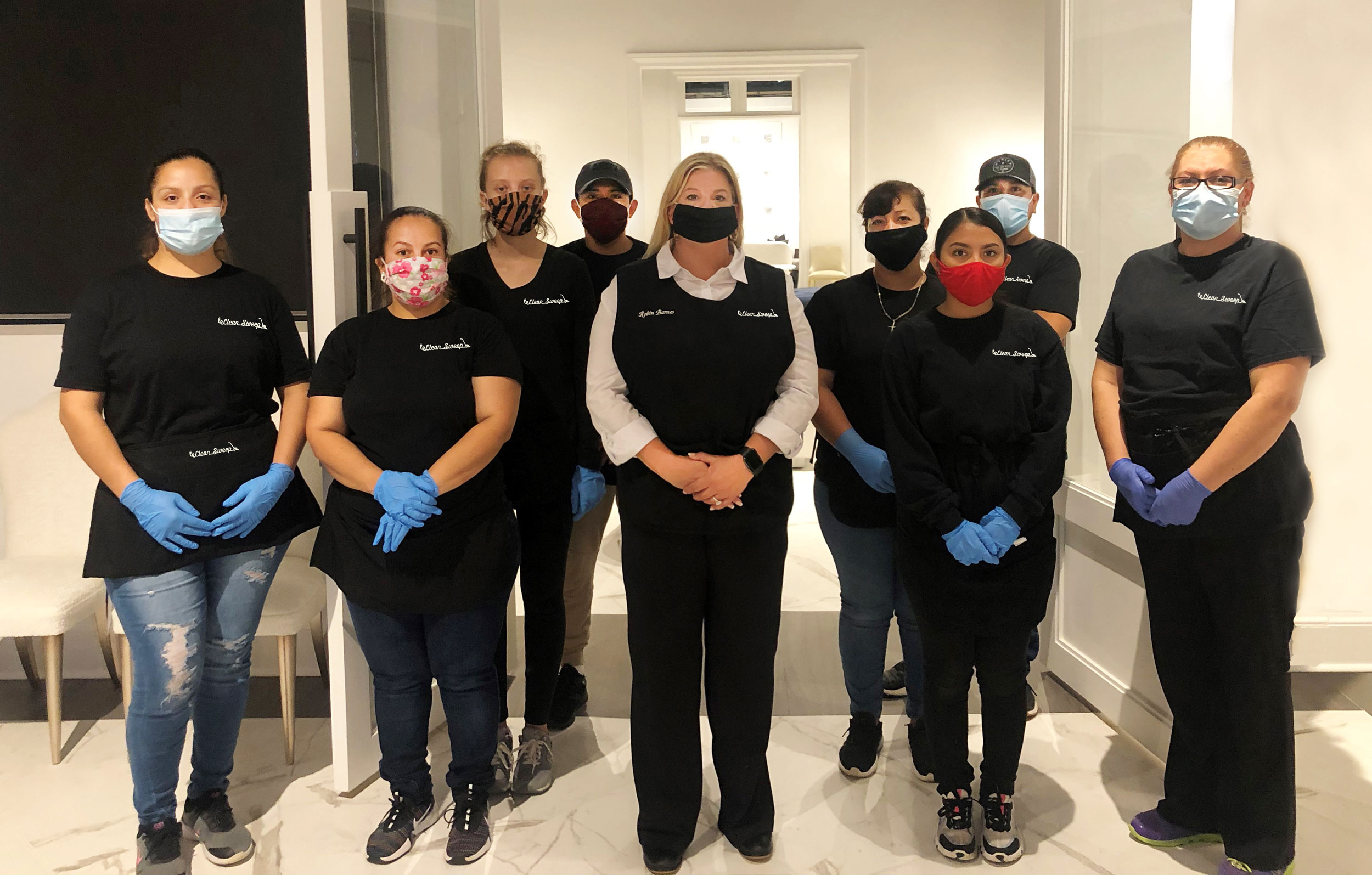 Covid Cleaning
Even before Coronavirus Covid 19, Clean Sweep cleaned its client's properties above and beyond their expectations. During this global pandemic and every day, you can be assured that Clean Sweep is watching out for you and your customers safety. We are following CDC guidelines and are using products that are specifically designed to clean and sanitize Covid 19 and other, virus.
You'll love your space after we've cleaned it! The moment you walk in the door, you'll know Clean Sweep has been there. Showrooms, event centers and your business are sparkling and photo ready for your marketing campaign. Your home's kitchen and bathrooms look like they have never been used and there's the distinctive fragrance that says it's Clean Sweep Clean!  Your satisfaction is guaranteed . . . 

Quality Guaranteed
At Clean Sweep we guarantee quality! You want to know your property will be cleaned just the way you want it. And we guarantee it every time! If you're not completely satisfied, we'll happily come back and re-clean whatever is in question at no additional charge. With Clean Sweep the job is only finished when you are completely satisfied!